hier geht es zur deutschen Seite
On July 7/8, 2018 nextmove attempted to break existing range records for electric cars at the DEKRA test track on Lausitzring in Germany. Two Tesla Model 3 and one Tesla Model S 100D were involved in the hypermiling record drive. At the end two new records were set and another record of a special kind!
Machine beats man: 
Unmanned Tesla Model 3  drives 1,001 kilometers (622 miles) on a single charge
Tesla Model 3 on autopilot achieves a distance record on Lausitzring test circuit Identical Model 3 with alternating drivers only achieves 978 kilometers (608 miles) Video shows Spacey, Starman's younger brother, on board of the self-driving Tesla
At the DEKRA testing grounds in Klettwitz, Brandenburg in Germany, a Tesla Model 3 drove unmanned for over 28 hours in "autopilot mode" and covered a distance of 1,001 kilometers (608 miles) on a single charge. The white Tesla Model 3 from Germany's leading electric car rental company, nextmove, was "driven" by the mascot, Spacy, the younger brother of Tesla's Starman, who is currently flying through space in a Tesla Roadster. The unmanned electric car with a 75-kWh battery pack (Model 3 Long Range) achieved 23 kilometers (14 miles) more in distance than an identical Model 3 with alternating human drivers, which was driven along the track simultaneously. 
For safety reasons, the nextmove team used the DEKRA testing grounds at Lausitzring for the risky event last weekend. "Naturally, a test circuit with clear markings, long straights, broad curves and few surprises provides near-ideal conditions for the Tesla autopilot", says nextmove Managing Director Stefan Moeller. "Admittedly, we did not know in advance whether the autopilot could reach the total distance without fault, even during the night." On Sunday afternoon it finally became clear: The machine completed its task like clockwork with a high degree of precision. Finally, it was possible to "capture" the vehicle again in time and recharge it at the grounds.
In order to make the autopilot think that there was a person sitting at the wheel, a number of tricks were employed: Stefan Moeller started the car and positioned the aids to imitate a human driver in the Tesla Model 3. Finally, he climbed out of the side window during a brief stop: This ensured that nextmove could re-enter the car at any time.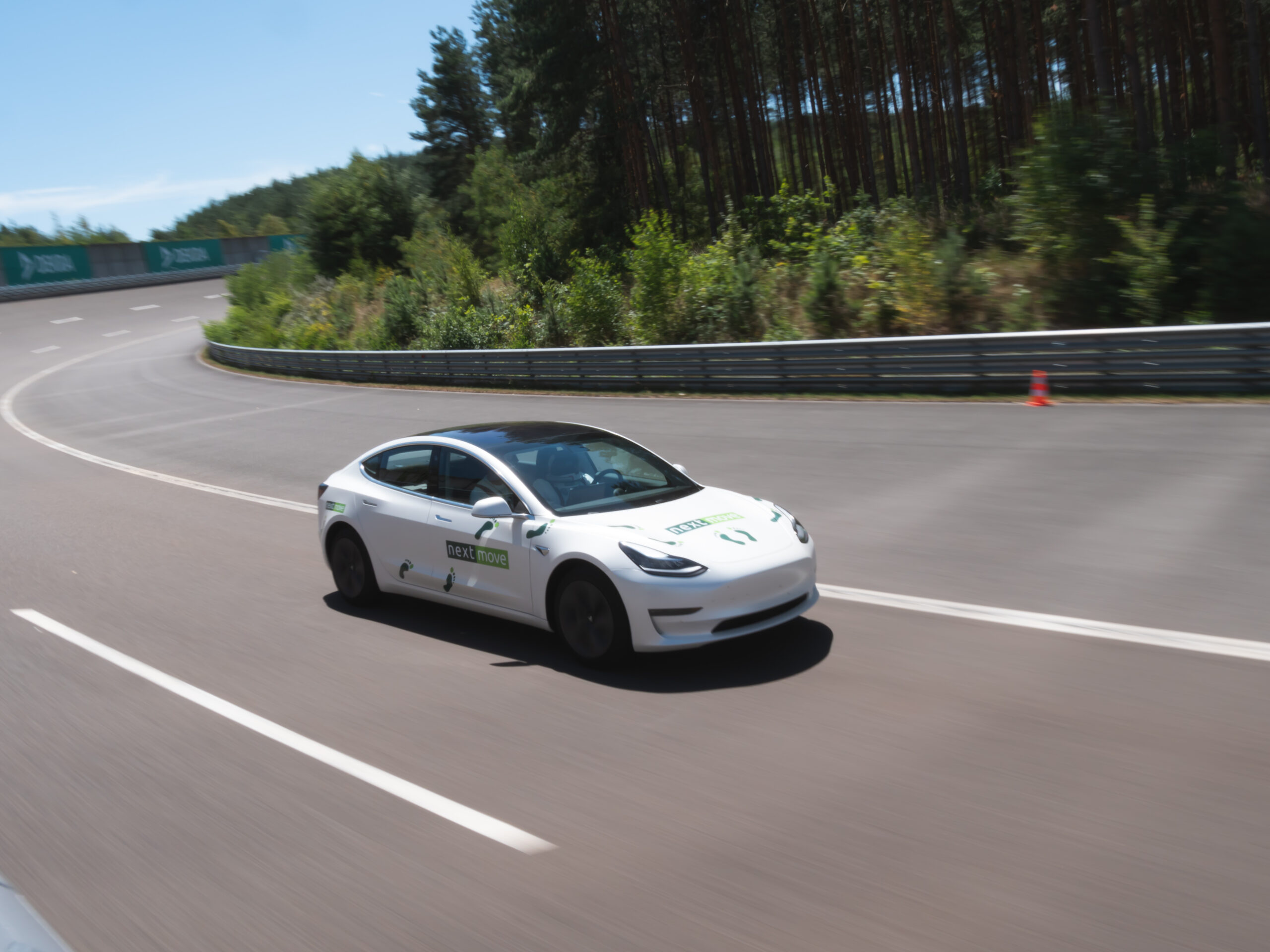 So as not to lose any aerodynamics, Moeller taped up the side window. Spacy sat in the driver's seat but during the night, he slept on a mattress that was placed on the folded-down back seats.
A second Model 3 with identical features (Long Range, 18-inch wheels, summer tires) started the race at the same time, using alternating drivers. Ultimately, the manned vehicle was able to reach 978 kilometers (608 miles) using cruise control, and occasionally, autopilot. So even this vehicle beat the previous world distance record for a Model 3 with a driver. The previous publicly-known record of 975 kilometers (606 miles) was held by a team from the USA. Nevertheless, the drivers had to admit defeat to the efficiency of the unmanned vehicle: Machine beat man.
The approximately 7 kilowatt hours of consumption for 100 kilometers achieved by the Tesla Model 3 roughly equates to 0.7 liters of diesel per 100 kilometers (33.6 mpg). The level of consumption achieved by electric cars shows the superiority of the electric motor over the combustion engine. The test vehicles were US-imported versions of the Tesla Model 3. The electric car will be delivered in the first half of 2019 to those in Europe who have pre-ordered it.
Hypermiling World Reco

rd

: 

1,128 kilometers (701 miles) with Tesla Model S
Previous hypermiling record for series-built electric cars was surpassed by 50 kilometers (31 miles) on the 7th and 8th of July 31-hour drive on the DEKRA testing grounds at Lausitzring The nextmove team, from Germany's leading electric car rental company, took turns driving
Klettwitz, Germany 16 July 2018. Using a Tesla Model S 100D, the nextmove team, from Germany's leading electric car rental company, has set a new world hypermiling record for a series-built electric car: The team reached a distance of 1,128 kilometers (701 miles) on a single charge at the DEKRA test circuit at Lausitzring, located in Klettwitz, Brandenburg. The previous record was 1,078 kilometers (670 miles). Throughout a drive lasting more than 30 hours, the team alternated drivers whilst travelling at a constant speed of 38 km/h.
Hypermiling is more about driving in a very efficient rather than in a realistic manner. The team used the first few kilometers to try out various speeds and driving styles and to work out the pace for the lowest level of consumption. When travelling at 38 km/h, the consumption was 88 watt-hours per kilometer. Throughout the 31-hour drive, five drivers took turns at the wheel every one to four hours, depending on their fitness levels.
"As an electric car rental company, we know all models very well from our daily business", says Stefan Moeller, Managing Director of nextmove. "Therefore, we had a good idea of how long we could draw out the trip at the end, without coming to a standstill. We were able to drive the Model S until it was completely empty and bring it back to stop at a charge point at base camp."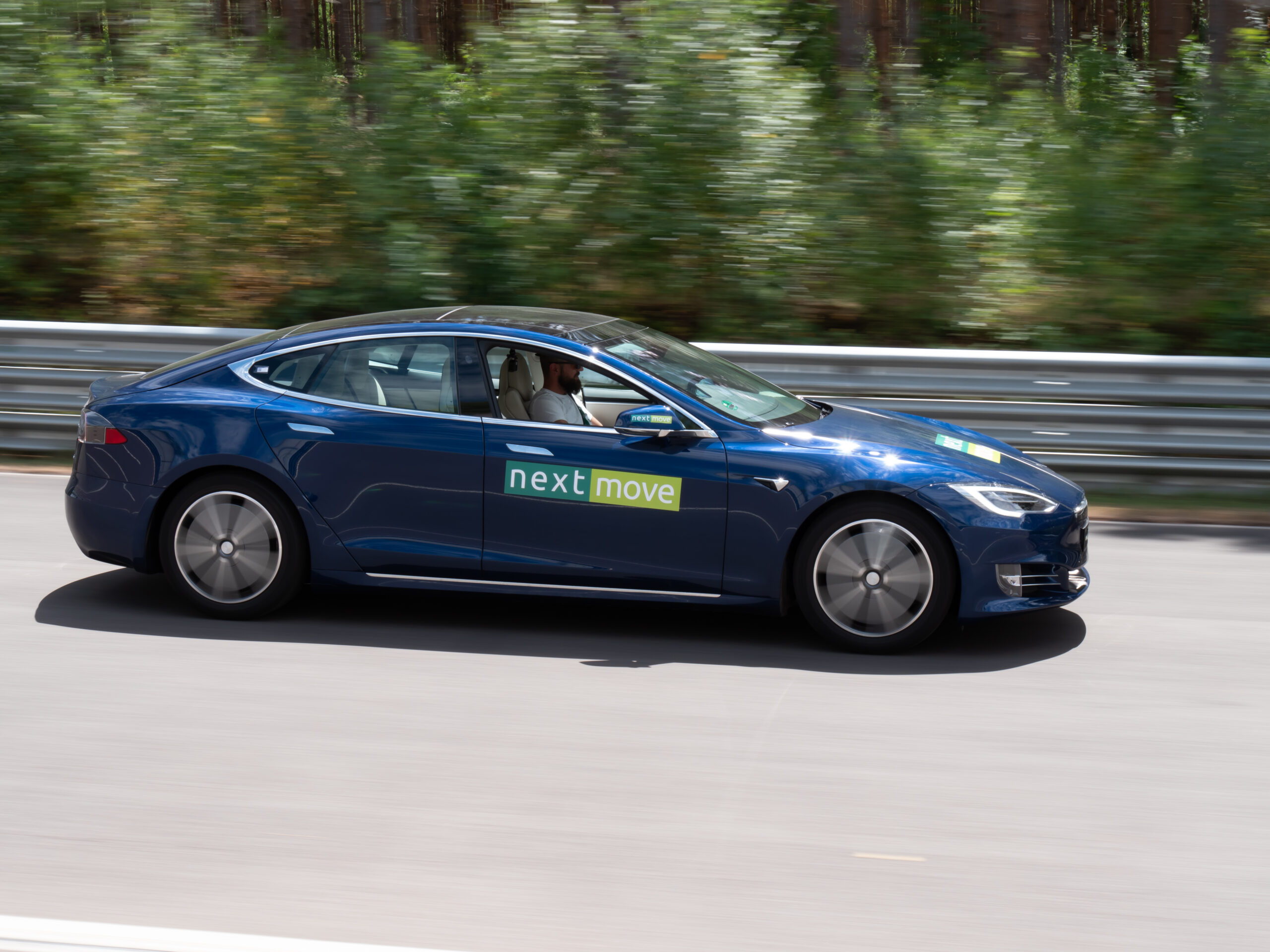 In order to get the best possible performance out of the car, the nextmove team did not use climate control, fans, heated seats or radio. Due to the outer temperature of around 30 degrees Celsius and only having windows open for short periods of time for fresh air, driving along the oval circuit for several hours was a sweaty experience. The drivers would temporarily switch on the Tesla autopilot to control the vehicle but most of the time, they took control of the wheel themselves. Cruise control was used to maintain speed.
"Our motivation for this difficult task was sporty ambition and the will to demonstrate the strengths of electric mobility", continues Stefan Moeller. "Ultimately, we are even happier to have accomplished this safely and confidently. Thanks to the ideal boundary conditions, intense preparation and favorable weather conditions, our team was able to meet its goal and set a new record. Even though hypermiling records are irrelevant for daily driving, they still impress by showing what electric cars are capable of."
Drivers took turns during the 31 hour drive
Tesla Model S 100D used 100 kWh of energy to travel 1128 km with an average consumption of 89 Wh/km.