Under certain circumstances, electric cars can become live while charging and people can suffer dangerous electric shocks.
Many electric cars do not have appropriate protection on board to protect people from electric shocks.
Some manufacturers prevent hazards by selecting appropriate charging cables.
While users can protect themselves by taking simple measures, there is an urgent need for action on the part of car manufacturers.
Electric vehicles are growing rapidly in popularity in Germany. In September 2021, the german market share of battery-electric cars has reached 17 percent. Added to this are a further 12 percent of plug-in hybrids, which can also be charged externally. Electric cars are generally considered to be very reliable in operation. Before type approval, the vehicles are put through their paces by the manufacturers and also the approval authorities. During the development and approval process, the battery in particular is tested under tough conditions for its resilience in everyday use and under extreme situations. In particular, damage to the high-voltage battery is tested for, as in these cases there is a risk of fire and electric shock. In the event of an accident, the power supply is cut off immediately so as not to endanger occupants and first responders. Experts assume that the risk situation with an electric car is different, but no higher than with a internal combustion engine car.
Electric shock during charging
The charging of the batteries is also extensively tested by the manufacturers and must withstand tests. Until now, drivers assumed that there were no risks whatsoever for users and passers-by when charging an electric car. But this confidence does not seem to be fully justified.
Stefan Moeller, the CEO of Germany's leading electric car rental company Nextmove, has experienced first-hand that electric cars can be dangerous under certain circumstances. In a Youtube video, the long-time electric car driver informs the public about this safety risk.
During his holiday in Croatia, the father of a family charged the few-month-old Hyundai Ioniq 5 at a household socket of the rented holiday house. While putting the boot away, he suddenly received a clearly noticeable electric shock. Fortunately, nothing happened to him, but the incident did raise some questions:
How could this happen?
How dangerous was this electric shock?
Is this an unfortunate isolated incident or a general problem?
And how can one prevent electric shocks?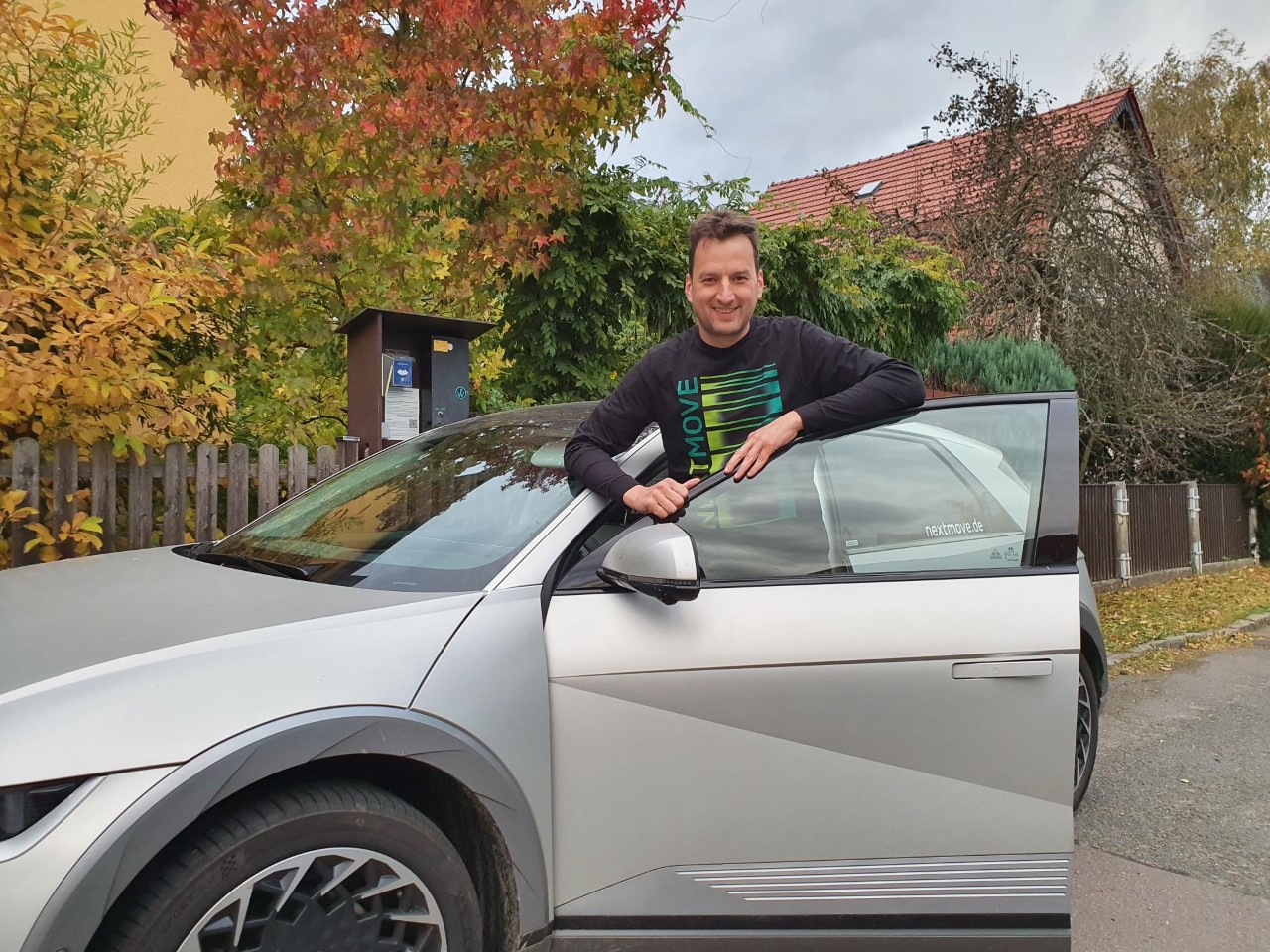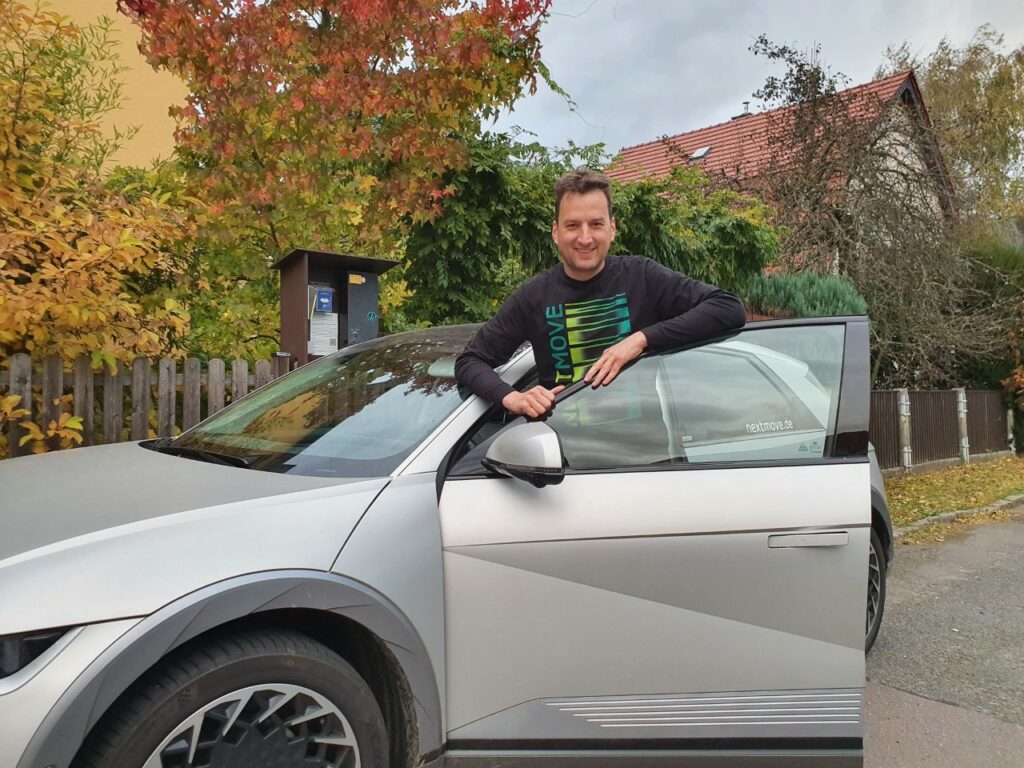 Factors that must come together
Of course, this experience has not left the electric car enthusiast indifferent. Back in Germany, Moeller was able to identify four factors that led to the electric shock through reconstruction of the events and extensive testing:
Using the emergency charging cable supplied by the car manufacturer
Charging from a non-grounded household outlet
Barefoot or wet footwear
Contact with uninsulated body parts
Tesla Model 3 measured 144 V on a wet door handle, photo: nextmoveThe trigger is charging at a non-earthed socket, which in combination with three other factors leads to electric shock. Particularly in Southern and Eastern Europe, one often encounters sockets that are only connected with two wires. During the charging process, a voltage is generated in the car's charging electronics that is normally discharged via the protective contact of the earthed socket. Without grounding, however, a potential builds up between the car body and the ground. Because Moeller was barefoot, he had direct contact with the ground. But wet shoes on a rain-soaked surface would also have fulfilled this condition. While unloading the trunk, he accidentally touched the latch eye of the trunk lock. This unpainted part is connected to the body, which in turn has direct contact with the vehicle's electrical system. When Moeller touched it, he closed the circuit between the body and the floor, causing it to ground and the current to flow through his body.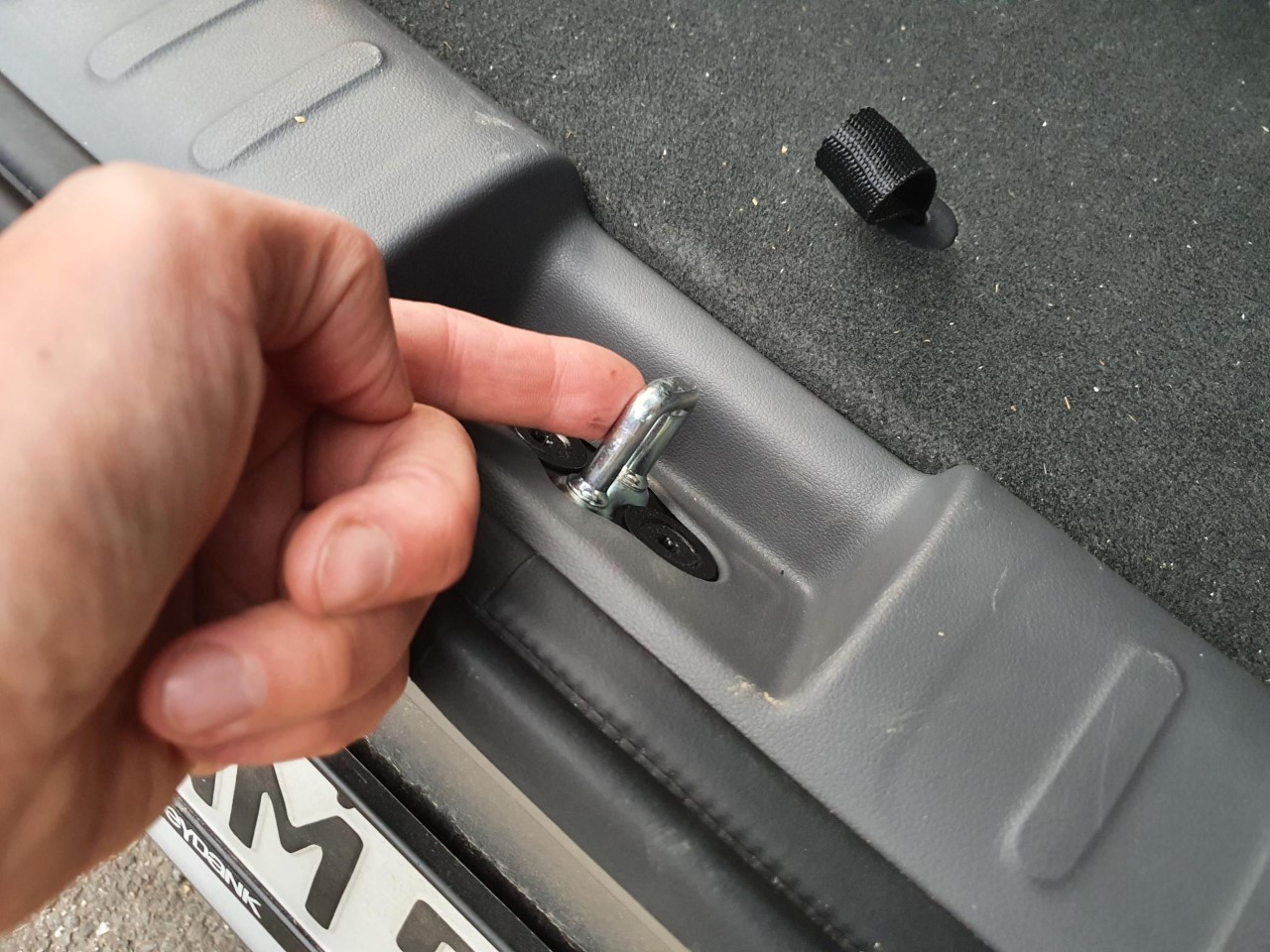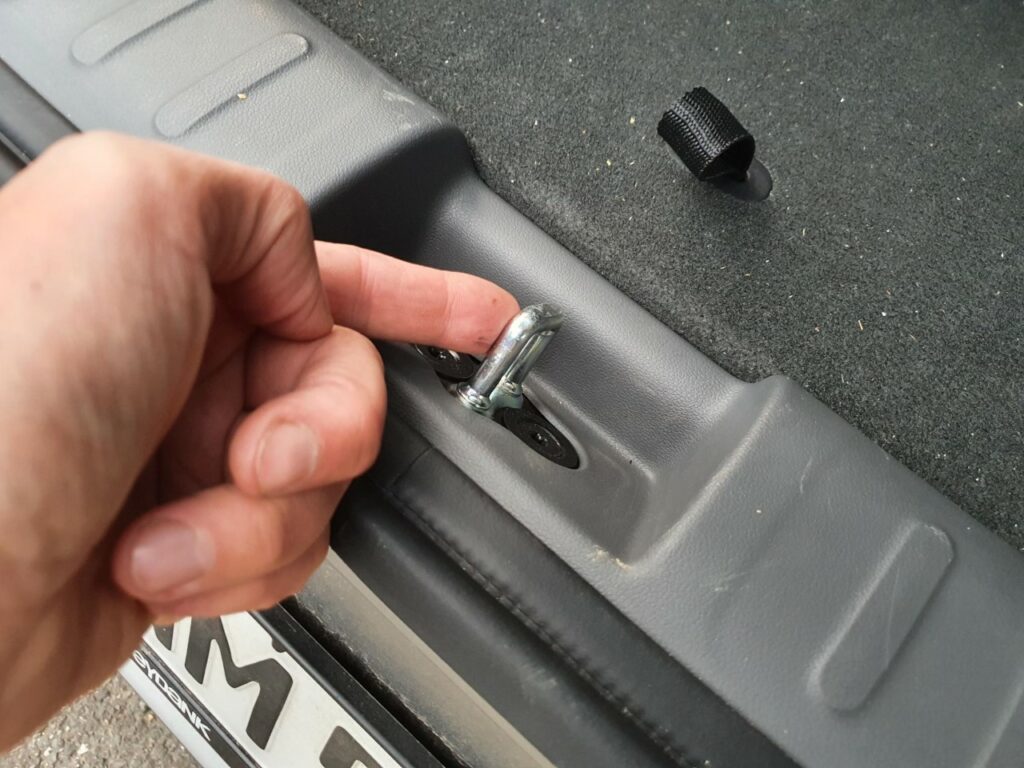 Matthias Gueldner, graduate engineer and lecturer for electromobility at the Electrical Education and Technology Centre Dresden, says:
"In Germany, sockets have been required by law to have an earth connection for many decades. Nevertheless, dangers lurk in many places. For example in old buildings and houses in which sockets are only connected with two wires without earthing or – and this happens frequently – the earthing of the house is insufficient due to faulty design."
Not an isolated case, but an industry problem
Neither the standard emergency charging cable nor the onboard charger of the Hyundai Ioniq 5 prevent charging at a faulty socket without grounding. Even the electric shock via the human in no way causes the charging process to be aborted.
Moeller then carried out measurements on various vehicles from the Nextmove fleet in the test scenario described above. He found that very many common electric cars do not offer any protection against possible electric shocks. Voltages of up to 150 volts (Audi etron GT) and currents of up to 1.9 milliamperes (Hyundai Ioniq 5) were measured.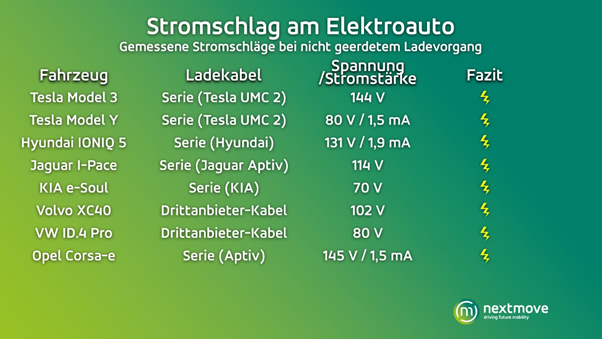 The video shows the measurements and special circumstances for each individual car. Tesla drivers are particularly at risk. Due to the design of the Tesla, the voltage of up to 144 volt is even applied to the wet door handle, which can occur after rain or washing the car. The probability of an electric shock appears to be increased , since the handle is touched frequently. Indeed, such an accident happened to one of the Nextmove customers with a Tesla Model S.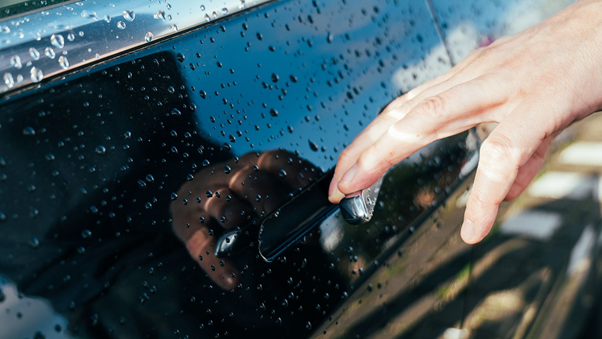 Electricity accident: limit values clearly exceeded
Dr. Carsten W. Israel, Chief Physician of the Clinic for Internal Medicine and Cardiology at the Protestant Hospital Bethel and long-standing spokesman of the Rhythmology Working Group of the German Society of Cardiology, said: 'The German Association for Electrical Engineering (VdE) has set a maximum touch voltage for healthy adults at 50 volts for alternating current, and 25 volts for children. Events above these limits, are in principle to be classified as an electrical accident. In such a situation hazardous to health can occur. In order to immediately detect and treat dangerous cardiac arrhythmias after an electrical accident, 24-hour Electrocardiography (ECG) monitoring is required in addition to a Twelve Lead Electrocardiodiagramm.'
Only a few manufacturers play it safe on the vehicle side
Car manufacturers have two ways to prevent charging from ungrounded outlets. Either via the supplied charging cable or in the car's onboard charger. The following cars and charging cables prevented charging at an unearthed socket in the test.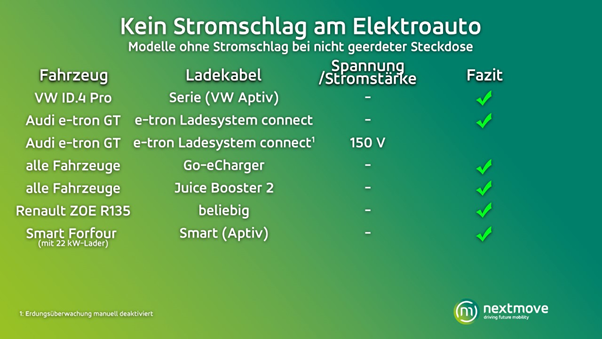 Manufacturers such as Volkswagen with the ID.4 and Audi with the e-tron GT secure the charging process via the supplied emergency charging cable. In this case, a fault current detection in the charging cable (ICCB) occurs and the charging process does not start. With the charging cable of the Audi e-tron GT, the user can still start the charging process by manually overriding the warning message.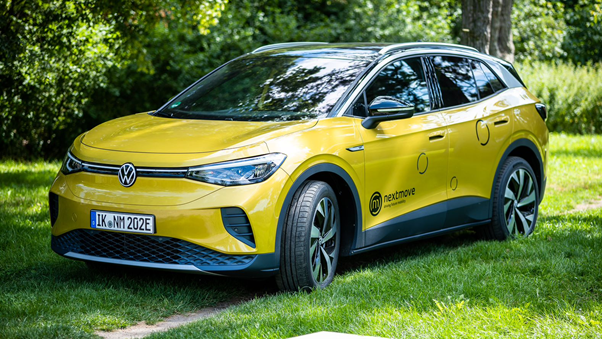 Users who use intelligent charging cables such as the Juice Booster 2 or a go-eCharger as a mobile wallbox with a safety contact adapter can also breathe a sigh of relief. These devices detect the unearthed connection and refuse to charge. They therefore provide effective protection for all vehicles for which no residual current test is carried out by the car or by the emergency charging cable supplied.
Only the Renault ZOE and the Smart, which is largely identical in terms of charging technology, refuse to charge from a non-grounded socket on the vehicle side, regardless of the charging cable used. This may initially be incomprehensible and inconvenient for the user in individual cases. But it is to be welcomed if safety has top priority.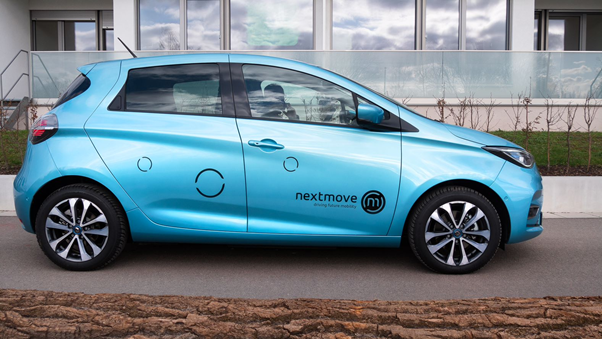 Users can protect themselves by taking simple measures
Electric car drivers cannot assume that they will encounter earthed sockets everywhere. In general, the so-called emergency charging cable should really only be used in an emergency and not every day. It is important to ensure that you are charging from a grounded socket. A simple socket tester for a few euros can provide immediate safety here, even with unfamiliar sockets.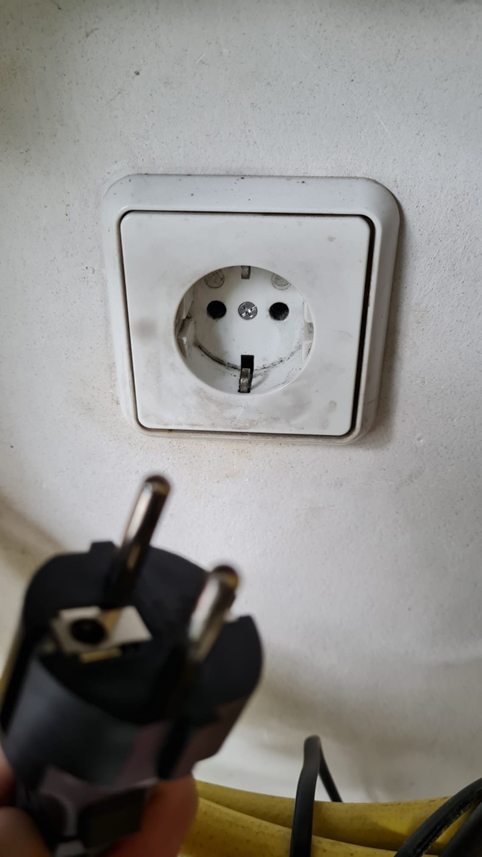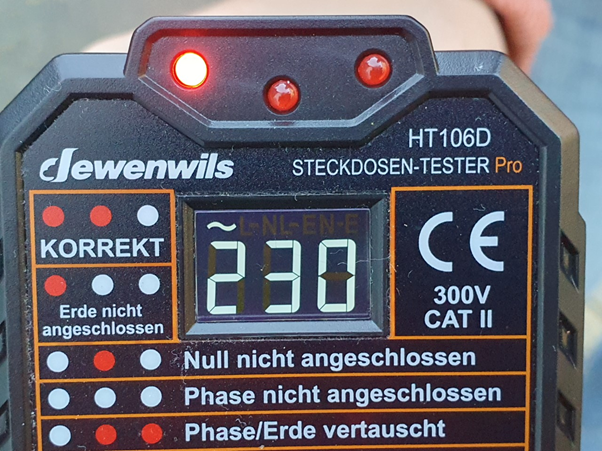 Only pure electric cars (BEV) were tested by Nextmove. Even though Nextmove, as a pure electric car rental company, does not have any plug-in hybrids in its fleet, Moeller assumes that many of these cars also pose the same safety risk.
For permanent charging at the everyday parking space of the vehicle, regardless of whether plug-in or fully electric, Moeller clearly recommends a wallbox. In an earlier Nextmove video, it was shown that a wallbox saves around €500 in electricity costs per 100,000 km driven. Due to the higher efficiency of the charging process compared to the use of the emergency charging cable. Those who opt for a mobile wallbox with residual current detection are also protected at foreign sockets. Currently, there is also a €900 state subsidy in Germany for the installation of a wallbox at privately used parking spaces.
Wake-up call for manufacturers
Car manufacturers must not limit themselves to pointing out in the operating instructions that the car should only be charged at a socket that complies with the applicable regulations.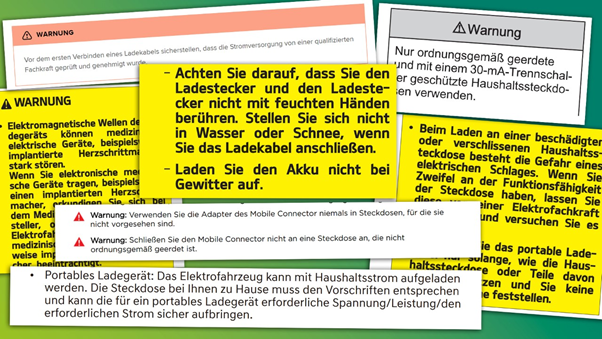 The minimum requirement is to replace "dumb" charging cables with intelligent emergency charging cables that prevent charging at unearthed and thus dangerous sockets. Even safer is the in-vehicle detection of unsuitable sockets and refusal to charge.
Stefan Moeller says:
"For widespread acceptance of emobility, it is necessary that the cars do not pose a risk to users or passers-by. With our video, we want to raise awareness of this risk and give users concrete recommendations on how to stay on the safe side. At the same time, we call on car manufacturers to take this risk seriously and prevent people from getting electrocuted on electric cars. The additional cost of an additional component in a safe charging cable is believed to be less than €20."
Text, graphics, images and all quotes can be used freely. Please link to the video or this blog in your own articles. On Friday 29 October, Nextmove will address in the nextnews – Germany's most watched emobility news show – frequently asked questions about the video and take on board potential feedback from the automotive industry. Subscribe to the nextmove YouTube Channel if you are interested in independent emobility research and tests.