[Test Drive Video Polestar 2 with English Subtitles]
"Driving, performance and handling are absolutely convincing," says nextmove managing director Stefan Moeller enthusiastically. The EV expert was in Sweden at the beginning of November to take part in a first driving event of Volvo's sub-brand Polestar. The company belongs to the Chinese Geely Group, which is the largest shareholder in Daimler and has taken over Volvo, specialises in electrically powered vehicles. Two models have already been presented: the Polestar 1 plug-in hybrid and the Polestar 2 all-electric car. Stefan Moeller: "I can only say to all those who have reserved the Polestar 2: There is no reason not to buy the car".
Stefan Moeller's test car included the first and so far only performance model of the Polestar 2. Polestar has built a total of a few dozen prototypes of the vehicle to date – next year 20,000 to 25,000 cars of both models will roll off the assembly line at the Chinese plant. According to the website, Polestar plans to start deliveries in Europe next May. "I think it will take a little longer, but no one at Polestar would like to comment on this in concrete terms – I expect July," says Moeller, as he enters the next bend with the vehicle sticking to the road.
In addition to steering intensity and recuperation, the Polestar 2 Performance's suspension can also be adjusted in just a few simple steps – via buttons and not on the display, as with the Tesla Model 3. "But that works great, so you can decide whether you want to have comfortable family driving or whether you want to be a bit more sporty on the road," says Moeller. Polestar is currently working intensively on the car's infotainment system, which in future will also have voice control for windows or temperature. "What I've seen has worked very well – the voice control works precise and is pretty fast," says Moeller.
Polestar 2 vs. Tesla Model 3 Long Range All-Wheel Drive
"Both cars have a lot in common," says Stefan Moeller. Both vehicles have two engines, are only one tenth apart (4.6 s Tesla vs. 4.7s Polestar 2) when accelerating from 0 to 100 kph and are almost identical in battery size. The Model 3 is nine centimetres longer and therefore has advantages in terms of boot capacity (542 vs. 438 litres). "The Tesla still has a head start when it comes to fast charging," says Moeller. The Model 3 achieves a charging power of up to 190 kW, while the Polestar 2 achieves 150 kW.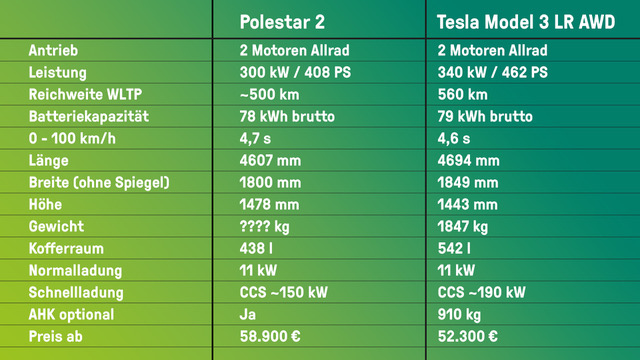 "The Polestar and the Model 3 are also close together in price," explains Moeller. Although the Model 3 with the standard autopilot costs a little less at 52,390 Euros, the Polestar 2 Performance, which costs 58,900 Euros, offers better standard equipment such as steering wheel heating or seat heating for the rear bench. A trailer hitch is available as an option for both vehicles.
Conclusion: First test of the Polestar 2
"All those who have reserved Polestar 2 can buy the car without hesitation. I see no reason not to recommend the electric car in terms of driving, performance and handling. It's all absolutely convincing," says Moeller. "Compared to the Tesla, the Model 3 still has a small edge in terms of performance and charging, and probably also in terms of efficiency. But those who want more of a classic car will be very satisfied with the Polestar 2. From my side a clear buy".