nextmove managing director Stefan Moeller drove 1,000 kilometers and had to settle for 20 kilowatts of "rapid charging" power
Europe's best-selling electric car of 2018 lacks active battery temperature management in its fourth generation
Leipzig, 29. Juli 2019. The Nissan Leaf II was Europe's best-selling electric car last year, featuring a 40-kilowatt-hour battery. The vehicle is considered to be an excellent all-rounder at close range but is only suitable to a very limited extent for long distances. The reason: the Japanese car manufacturer, Nissan, dispensed with active cooling of the battery system in this model, resulting in the so-called Rapidgate effect on longer journeys or in higher outside temperatures: the battery becomes warmer and warmer from driving and charging, and the rapid charging is significantly reduced. The temperature limit can even lead to power limitation during driving and a maximum speed of 110 kilometers per hour (68 mph) to protect the battery.
In the meantime, Germany's leading electric car rental company nextmove has received the first Nissan Leaf e+ . The latest generation of the electric car has a 62-kilowatt hour battery and significantly more engine power but still lacks active battery cooling. According to Stefan Moeller, nextmove's Managing Director, "Initial test drives on long-haul routes indicate that even when driving at moderate speeds, only the first recharging is reasonably fast."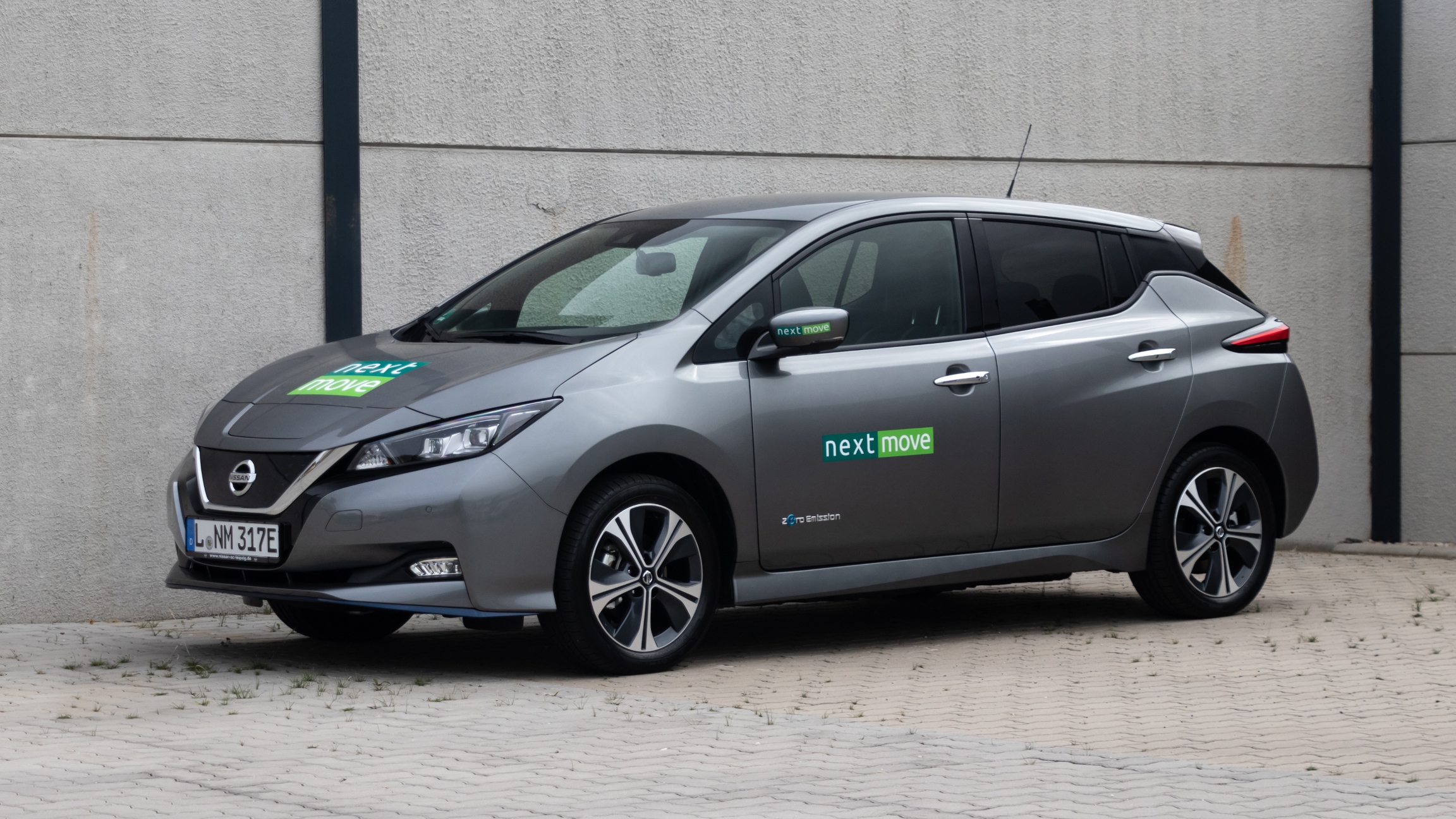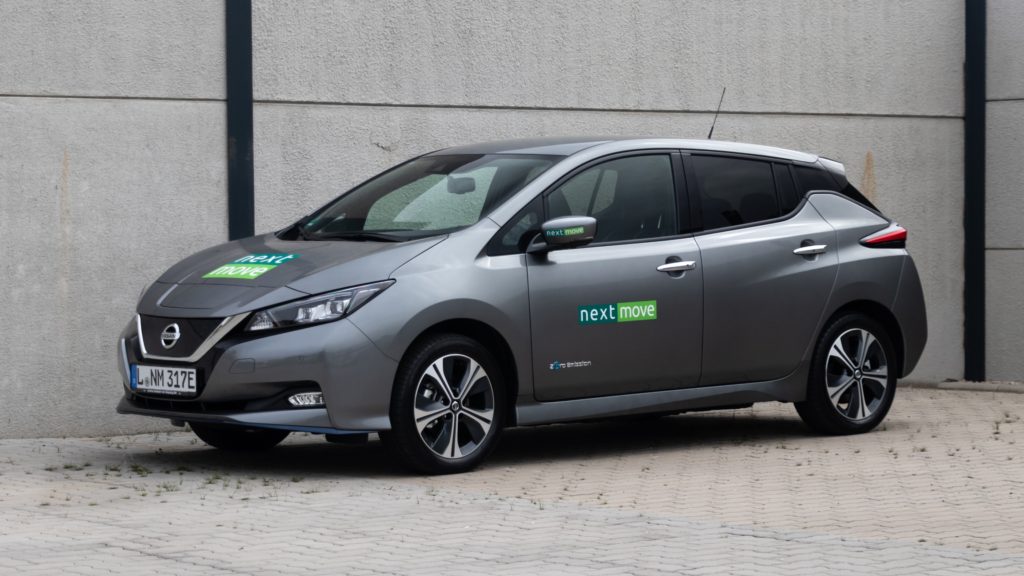 A test conducted by nextmove over 1,000 km (620 miles) in one day confirmed this assessment. The highway trip with the Nissan Leaf e+ quickly led to battery temperatures above 50 degrees Celsius (122 degrees Fahrenheit) during the Rapidgate test and charging capacity at charging stops number two through five were reduced to around 20 kilowatts. This means a recharging time of approximately 2 hours for another 200 km (124 mi).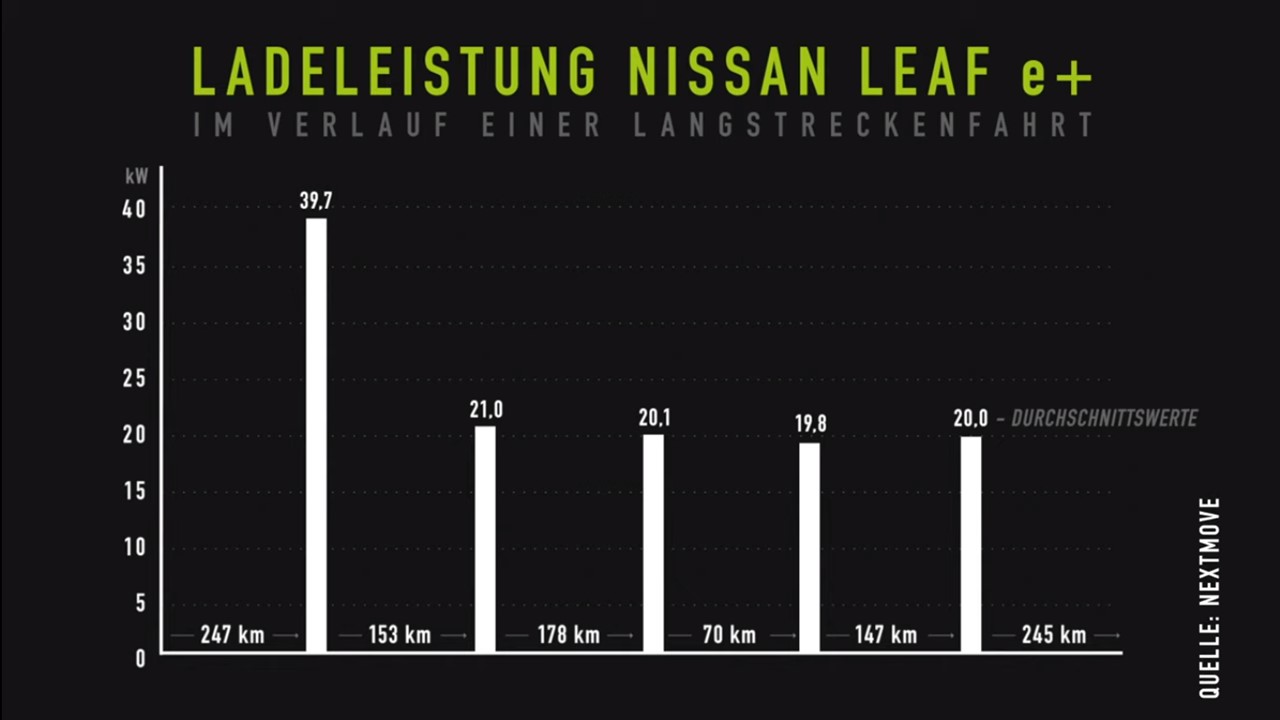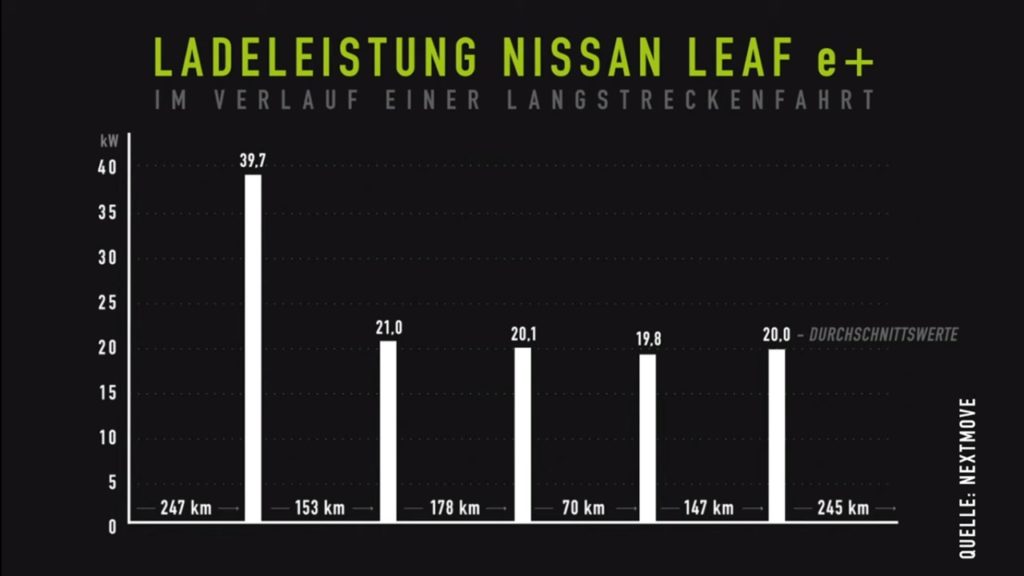 "We don't fully understand Nissan: a fan system was announced at the beginning of the year to improve the charging performance of the new generation," says Stefan Moeller. Buyers of the 40 kWh variant can now request a software update, but this only slightly improves battery recharging speeds.
After many customer complaints in 2018, Nissan is now being more transparent about the long charging times of the new Leaf. On the Nissan homepage it describes the new Leaf as rapid charging "from 20 to 80 % in around 90 minutes". This information gives an unfavourable impression – in practice, the test vehicle managed to do this in 50 minutes at the first charging stop, 45 per cent faster than the prediction. Nissan continues: "Time dependent on charging conditions, including charger type and condition, battery temperature as well as ambient temperature at point of use. Indicated rapid charging time requires use of a CHAdeMO rapid charger. The Nissan LEAF is designed to support the majority of journeys in daily life and is equipped with charging safeguards to protect the battery during repeated rapid charging sessions in a short period of time. The time taken for successive rapid charging can take longer if the battery temperature activates the battery safeguarding technology."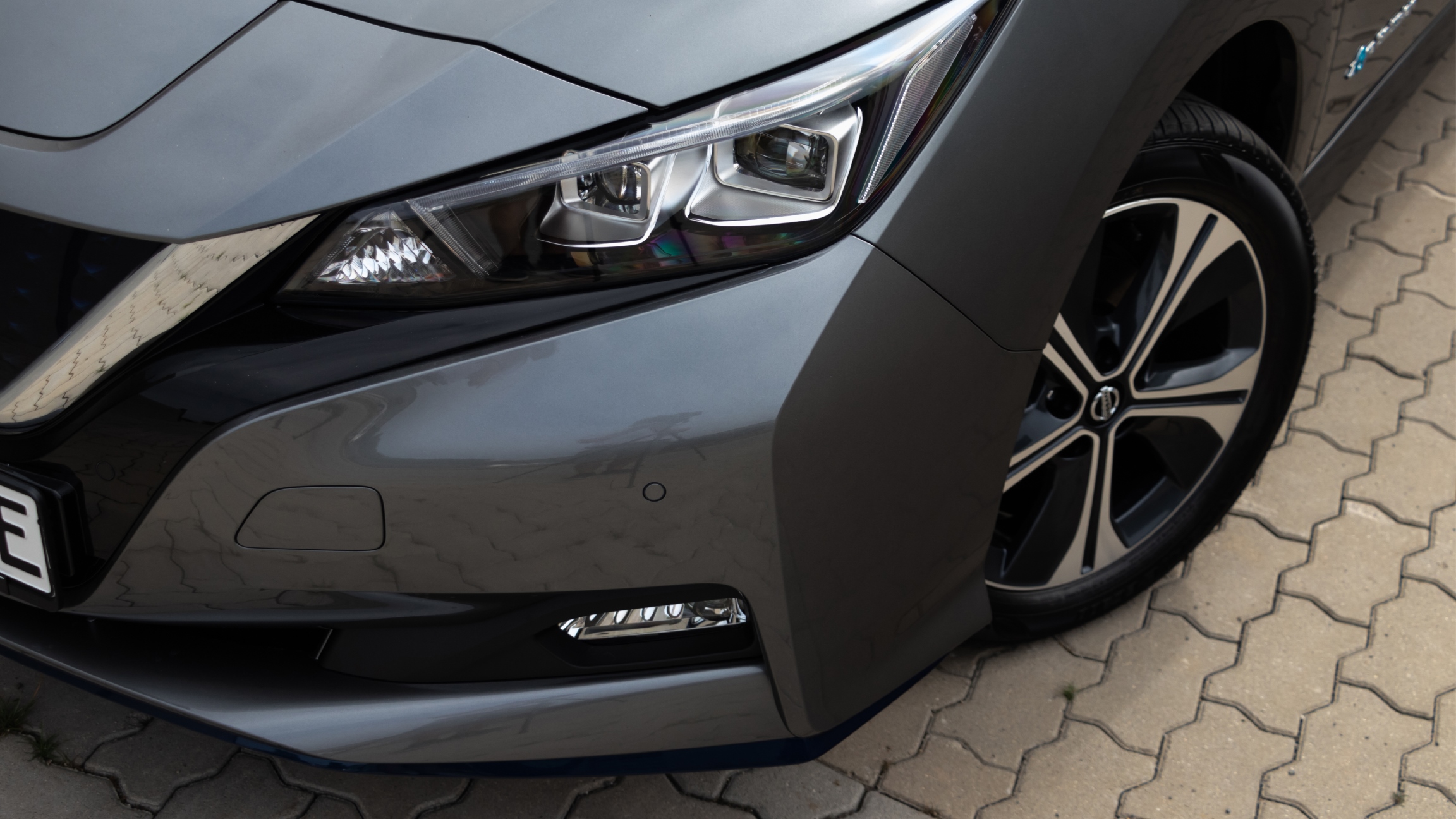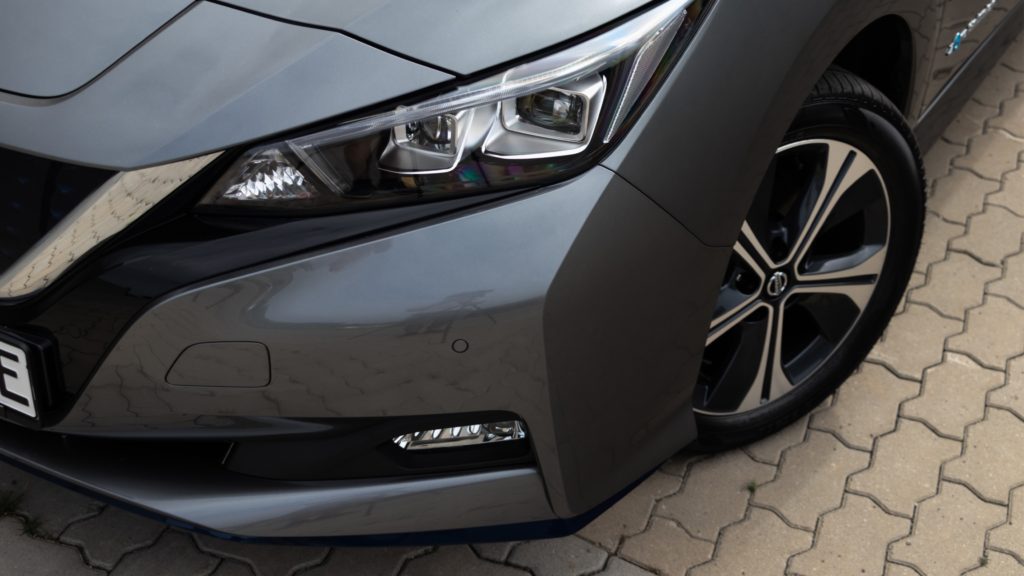 However there is no active intervention behind this technology, simply a throttling of charging speed. Nextmove has not been able to detect any reduction in performance driving with the Leaf e+ so far. Stefan Moeller: "Of course I wonder why such a large battery is used, which promises adequate long-distance ranges, but without the thermal management featured in comparable cars such as the Kia e-Niro and the Hyundai Kona".
There is one redeeming feature for Nissan Leaf e+ buyers: for everyday city traffic it is sufficient to charge once a week. However "if, like me, you want to regularly drive more than 500 kilometer (310 mi) a day, the car is unfortunately not a good alternative. Too bad, because the Leaf is a great overall package and is a lot of fun to drive", says Stefan Moeller.
About nextmove
nextmove is Germany's leading electric car rental company with 380 vehicles and is present in ten cities. The fleet includes all common electric cars such as Tesla Model S, Model X, Model 3, Audi e-tron, Jaguar I-Pace, Kia e-Niro, Hyundai Kona, Hyundai Ioniq, VW e-Golf, Opel Ampera-e, BMW i3s, Renault Zoe and Smart as well as Renault Kangoo and Nissan e-NV200. Customers can try out and compare different models from the fleet and thus find their own dream car.
Customers who don't want to wait long for a new car, can also buy the rental car directly. Long-term rental with flexible termination options is also a cost-effective way of bridging the gap until the own vehicle is available. In addition, the company consults on all aspects of buying, charging and driving electric cars.