nextmove, Germany's leading electric car rental company, has tested the three premium electric SUVs Audi e-tron, Tesla Model X 90D and Jaguar I-Pace against each other in a direct consumption test. For this purpose, the "Big Three" of electric mobility were driven in parallel on the German Autobahn. The consumption of the Audi e-tron and Jaguar I-Pace was a quarter higher than that of the Tesla Model X.
Author: Stefan Moeller
Test under everyday conditions
The tested Audi e-tron (95 kWh battery) is a pre-series vehicle that Audi provided for the test drive. The Tesla Model X 90D (90 kWh) and the Jaguar I-Pace (90 kWh) are vehicles from the fleet of Germany's leading electric car rental company nextmove. All three electric cars were equipped with winter tires. The Model X and the I-Pace were equipped with 20-inch wheels; the e-tron with 21-inch wheels.
The outside temperature was 8°C (46 degrees Fahrenheit). The interior temperature was set to 20°C (68 degrees Fahrenheit) for all three vehicles. The trip led from Munich to Landshut and back. Consumption was measured exclusively on the motorway over a distance of 87 km. In all three vehicles, the on-board computers were reset simultaneously. The test drivers had radios with them to make arrangements. The measurement of consumption by charging the vehicles was deliberately omitted, as this is very complex and may lead to distorted results. The battery management starts a so-called balancing of the battery during some charging processes. As a result, individual charging processes require a higher current consumption than others under the same test conditions.
The maximum speed was 130 km/h (81mph) . The average speed was 120 km/h (75 mph). All three vehicles were driven in convoy. The distances were chosen sufficiently large, in order to exclude slipstream effects. The drivers were experienced electric car drivers. In addition, there was a driver change halfway through the journey in order to minimize any influence of different driving styles.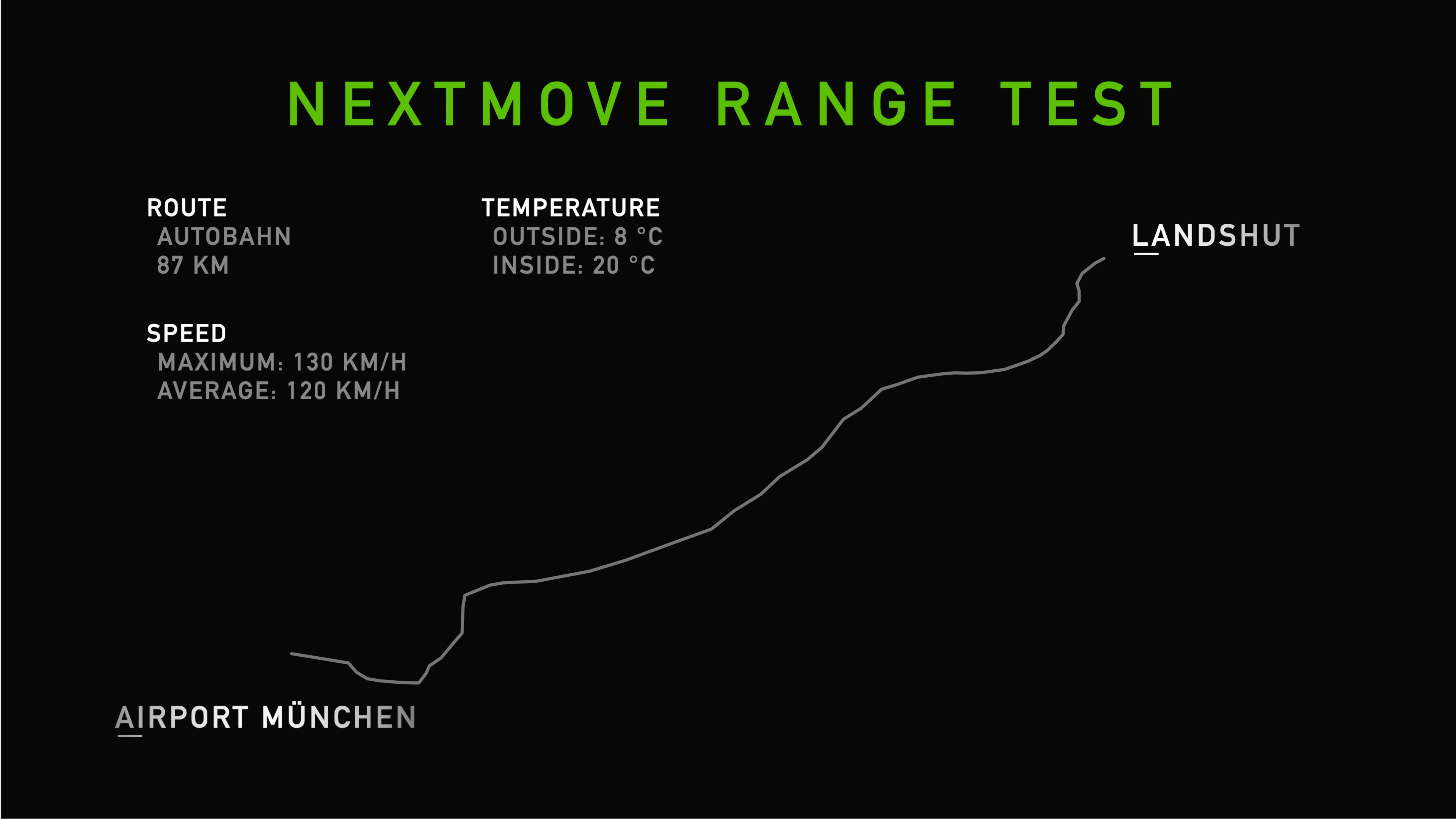 Audi and Jaguar consume a quarter more energy than Tesla
In direct comparison, the Tesla Model X (drag coefficient: 0.25) performed best. The consumption was 24.8 kWh per 100 km ((39.9 kWh/100mi). The Audi e-tron (drag coefficient: 0.27) showed a 23% higher consumption of 30.5 kWh/100 km (49.1 kWh/100mi). The Jaguar I-Pace (drag coefficient: 0.29) had the highest consumption of 31.3 kWh/100 km (50,37 kWh/100mi). and required 26% more than the Model X. The significantly higher consumption of the I-Pace compared to the Model X confirms previous nextmove tests on the motorway.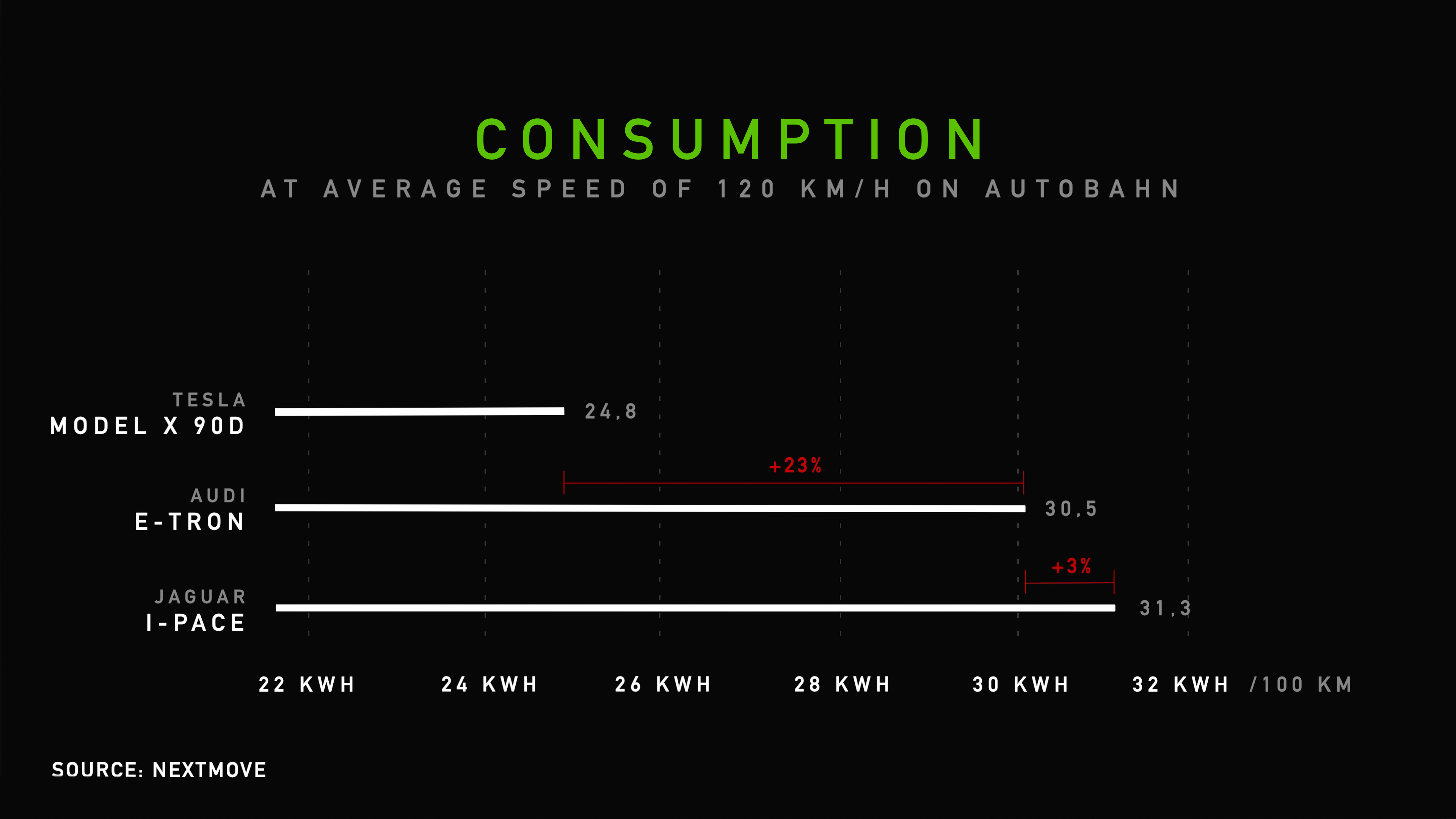 Tesla clearly takes the lead with regards to range
With regard to the range on a single charge, the following values were calculated. The Jaguar I-Pace can cover a distance of 272 km (169 mi) on a single charge under the given conditions. The Audi e-tron reaches 2 km more and thus 274 km (170 mi). The Tesla Model X 90D would drive 65 km (40 mi) further than the e-tron and reach 339 km (210 mi). If the Audi were also on the road with 20 inch tires, the lead of the Model X is estimated at 50 km (31 mi).
Since the Tesla Model X 90D is no longer available for configuration, the comparison with the current Model X 100D is relevant. A Tesla Model X 100D with a 100 kWh battery would cover 389 km (242 mi) and thus drive 115 km (71 mi) or 42% further than the Audi e-tron with a 95 kWh battery.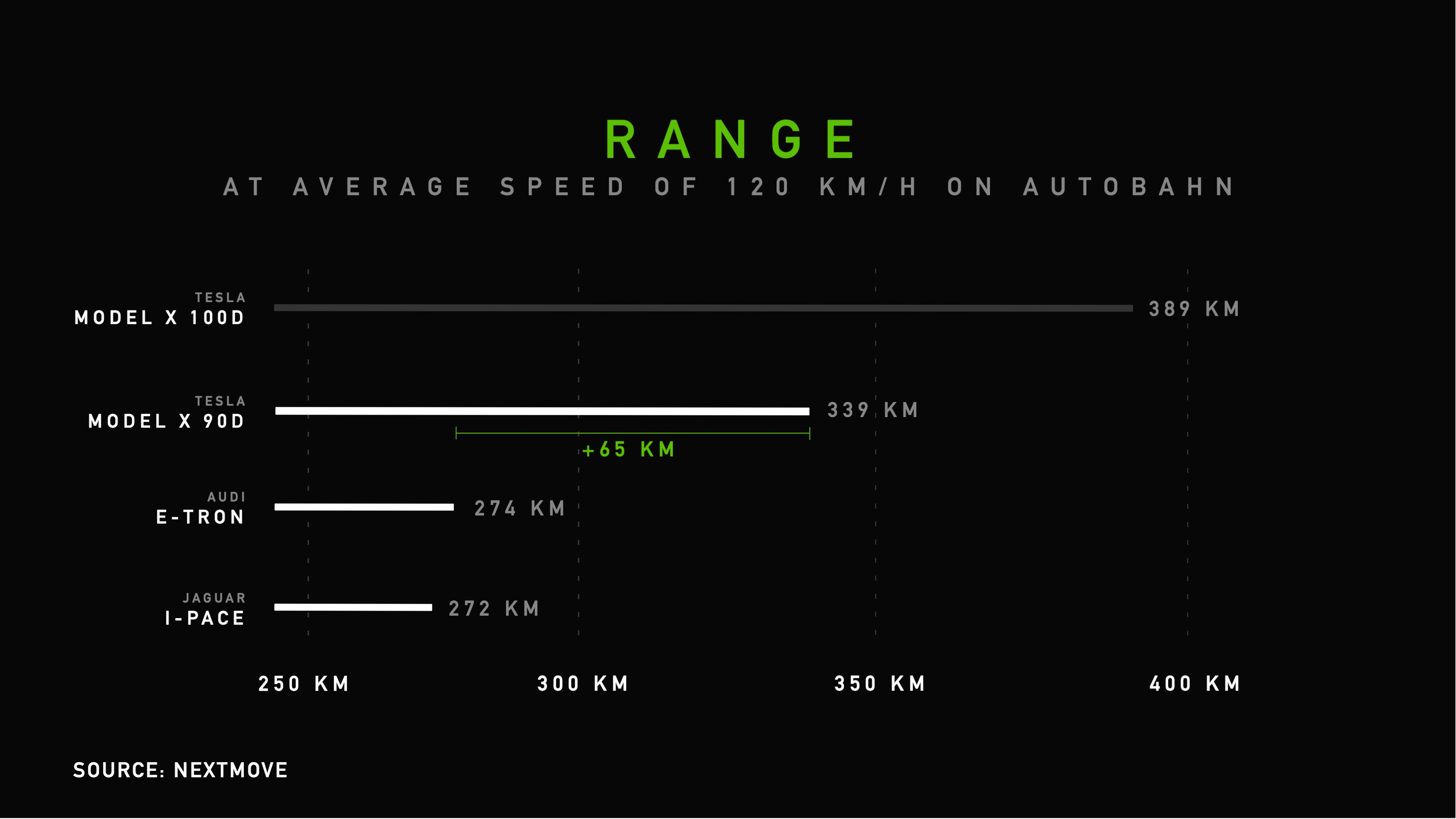 Electricity costs at home: Audi and Jaguar a quarter more expensive than Tesla
The higher consumption is directly reflected in higher electricity costs. At German household electricity prices of 28 cents per kWh and consideration of charging losses of 10%, the following costs per 100 km result. Driving the Audi and Jaguar on the motorway is about a quarter more expensive than driving a Tesla.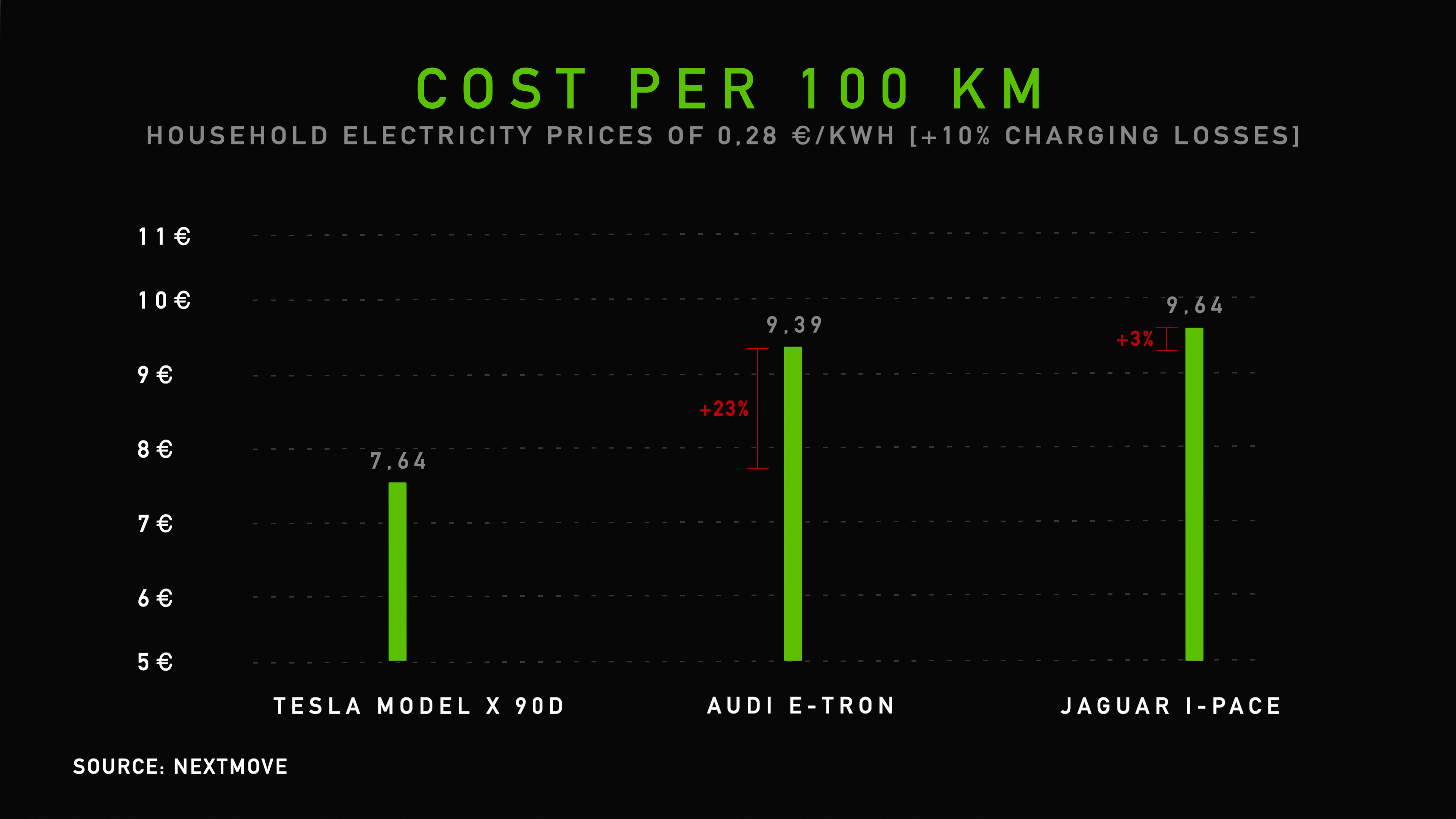 Market launch: Model X free of charge, e-tron & I-Pace significantly cheaper than diesel
On long-haul journeys, the costs at fast charging stations are particularly relevant. For this purpose, charging cycles from 0 to 80% charge level were used as the basis for calculation, i.e. the area in which the vehicles can charge particularly fast. At Tesla, market launch offers are free of charge in the form of a Tesla Supercharger flat rate limited to a few months. In addition, many used vehicles can load permanently free of charge on the superchargers. A trip through Europe with a Tesla is currently free of charge.
Audi is also offering introductory prices in Germany for the market launch. Users of the e-tron Charging Service must pay a basic monthly price. This is 4.95 euros in the city tariff and 17.95 euros in the transit tariff per month. For Germany, charging is charged at a flat rate per charging process. The charging process costs 7.95 euros for municipal AC charging and 9.95 euros for DC charging on fast chargers. Charging at an Ionity station costs 8 euros (transit). This amount was used for the comparative calculation for charging on the motorway. The basic fee was not taken into account. Under this assumptions, the Audi e-tron costs 3.66 euros per 100 km.
Jaguar also offers a loading tariff in cooperation with PlugSurfing. When charging at Ionity charging stations, a flat rate of 8.80 euros is charged per charging process. This results in costs of 4.07 euros per 100 km.
Tesla offers an unrivalled zero cost offer for first phase. Driving an Audi e-tron or Jaguar I-Pace is at least considerably cheaper than driving a comparable diesel SUV. An Audi Q5 would consume around 6 liters diesel at 120 km/h.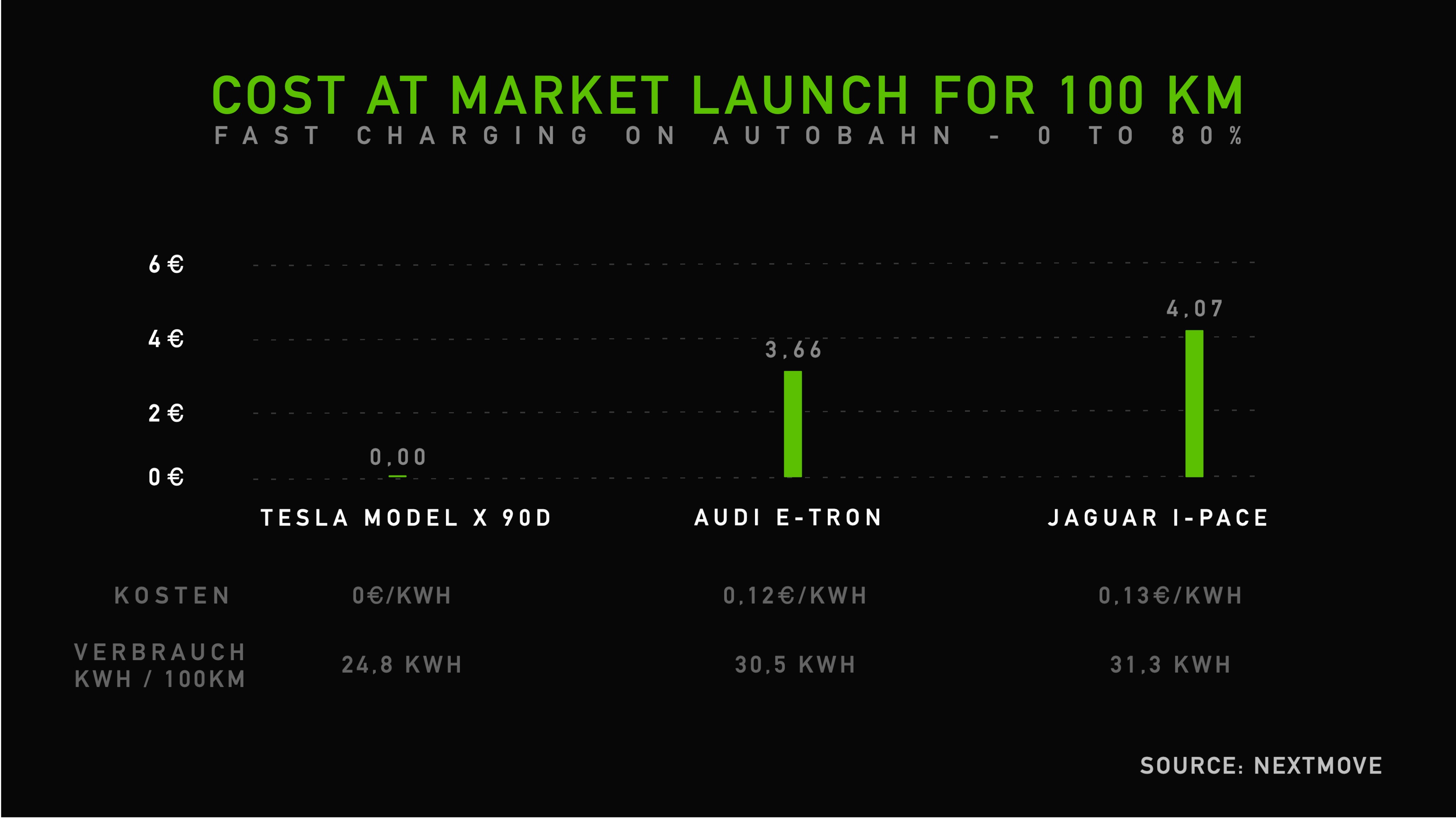 Long-term electricity costs: Audi and Jaguar 50% more expensive than Tesla
For the comparison of travel costs, the long-term cost are of relevance. In Germany, the charging of new Teslas on superchargers is charged according to time. The charging rate is 40 cents per minute for high charging capacity and 20 cents per minute for low charging capacity. An exemplary charging process from 0 to 80% results in electricity costs of 27 cents per kWh.
At Audi, each kWh at Ionity fast chargers will be charged at 33 cents. For the Jaguar I-Pace, the same value was used for the comparison.
In the long run, the Tesla Model X 90D costs 6.70 euros per 100 km. The Audi 10.06 Euro and the Jaguar 10.32 Euro. Long distance journeys in an Audi or Jaguar would be about 50% more expensive than in a Tesla. This is due to the higher consumption and the higher electricity cost per kWh. With about 10 Euro per 100 km, both vehicles would be also more expensive than a comparable diesel SUV at 120 km/h.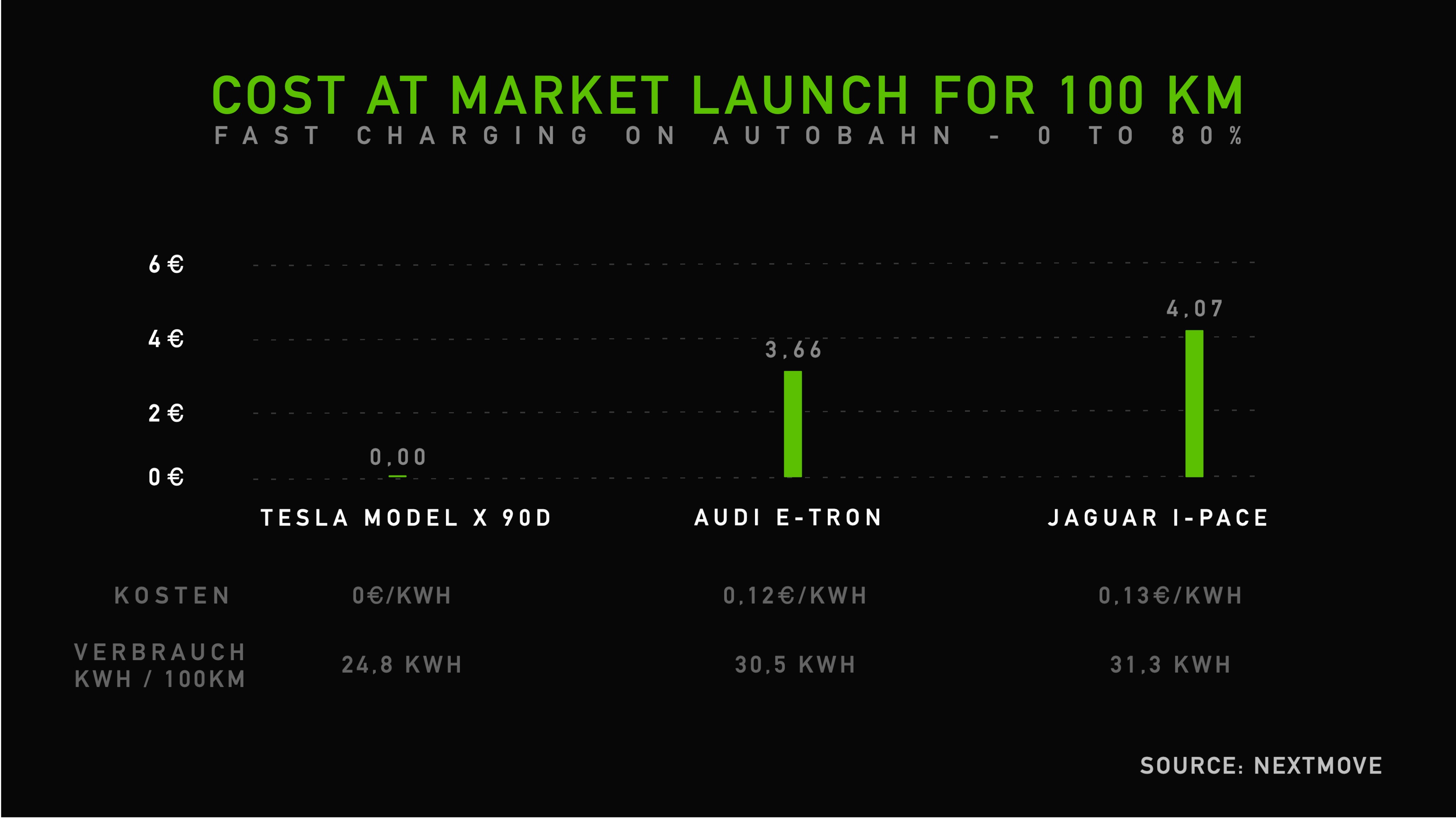 On long-distance trips over 1,000 km Audi closes in on Tesla
The higher fuel consumption of the Audi e-tron compared to the Model X 90D results in longer driving time on medium-haul trips. However, on a journey of 1,000 km, the Audi e-tron would be able to compensate for the higher consumption with faster charging power. Both cars would need about 10.5 hours for a distance of 1,000 km. But it should not go unmentioned, that the Tesla Model X 100D, which is the only available Model X, would reach its destination much faster.
In addition, there are currently only very few fast chargers in Germany and Europe where the Audi can fully exploit its charging speed. Currently, the Tesla Model X 90D would have an advantage of 1 to 2 hours over the Audi e-tron on any given route.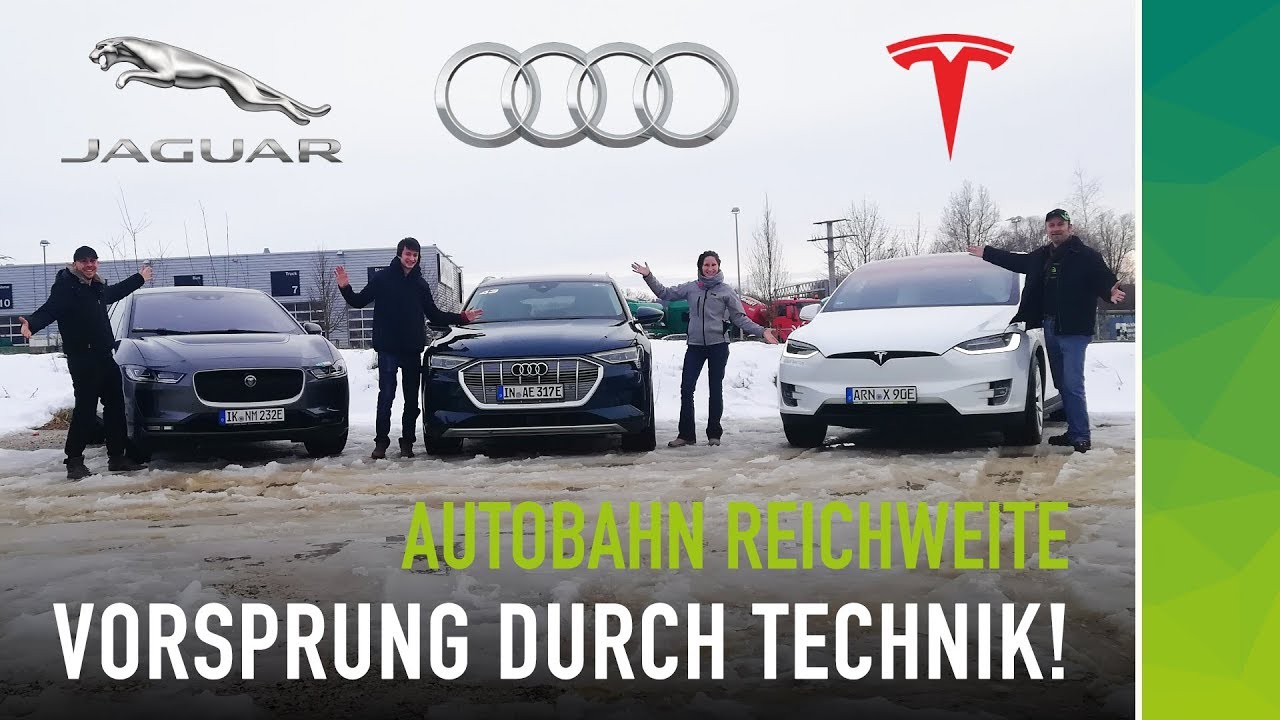 Tesla currently undisputed technology leader
The test under realistic everyday conditions on a German motorway shows: In terms of efficiency, the Tesla Model X currently drives in its own class in the premium SUV segment. Significantly lower consumption, shorter driving times on normal routes and electricity costs that are half as high in the long run are clear arguments in favor of Tesla.
In addition, the Tesla Model X belongs to a larger vehicle category. It can accommodate up to 7 people. The top speed is 250 km/h instead of 200 km/h. In addition, the 30% higher system performance offers a faster sprint to 100 km/h and more agility at higher speeds.
Contact
Stefan Moeller
General Manager nextmove
Telefon: 0177-7922117
E-Mail: info@nextmove.de
Social Media